Naam: Chickensmoothie
Soort: Adopting site
Onderwerp: dieren
Omschrijving:
Je kunt leuke diertjes adopteren en versieren. Je kunt ruilen met anderen maar het is wel Engels. Het gaat arom dat je beestjes verzameld
er zijn honden, wolven, vossen, katten, spinnen, twee soorten draken, kavia's, ratten, paarden en vlinderwolven. Er is ook eenwinkeltje maar daar moet je écht geld aan uitegevn. De items diet je daar kunt krijgen kun je ook ruilen net zoals de beestjes
Link:
http://www.chickensmoothie.com/
Eventuele banner/afbeelding: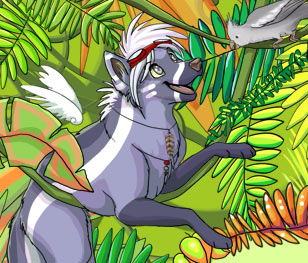 REGELS!!!
(als je engels kunt is dit wel makkelijk)
forum regels
Treat other members respectfully. If you have nothing nice to say, then perhaps say nothing at all. Any bullying or harassment of members will not be tolerated.
Please don't use bad language on the forum - Please don't swear or use other offensive language on the forum. Even if you don't have a problem with using that language, it's not fair on other members who may find it offensive.
Keep topic/image content kid-friendly, please! - just imagine every other member is 10 years old and behave appropriately

RP/Trading etc rules: Some areas of the forum have their own set of rules, so check the stickies in areas such as the Roleplay board and the Trading/Adoptions board if you wish to use those areas.
Spamming - don't post pointless posts/threads etc. Don't post threads to advertise other threads (e.g. posting in general chat to advertise a thread you created in trades/adoptions section). Any posts breaking this rule will just be deleted.
Posting images - please read our sitewide rules for posting images.
If you break the rules you may find yourself getting a warning from a member of our moderator team. If you continue to break rules and disrupt the forum, you will be banned.
Where can I find out more about using the forum?
site regels
Can I modify the pet and item pictures?
No! You are not allowed to modify our pet or item pictures in any way. This includes posting your own recolored versions of pets.
Can I have more than one account?
No, each player is only allowed to have one account. You are not allowed to have more than one account for any reason.
Players which create or control multiple accounts in order to get around our adoption limits and pound time limits will be banned and have their pets taken away. If you're trading with other people, they have to be real players and not just accounts which exist to give you pets. If in doubt, don't.
If you want to rename your account, DON'T create a new account and trade the pets over to it. That breaks the multi-account rule. See our help entry on renaming your account instead.
Do I need a working email address?
Yes, the email address on your account must be a working email address that you can check. This is so that we can determine the real owner of the account if there is ever an ownership dispute, or contact you about other important issues. If we have to contact you and find that your email address does not work, we will disable your account.
What about account security?
We take account security very seriously here at Chicken Smoothie. If we find that you have been trying to break into peoples' accounts, or use their accounts without their permission in any way, you will almost certainly be banned. Just don't do it. We log all failed login attempts so that we can check for people who are trying to compromise accounts.
The best way to keep your account secure is to use a secure password.
What are the rules for posting and distributing artworks?
Chicken Smoothie is largely a community of artists, so we take protection of artists' copyright very seriously. Our rules apply to all images posted to Chicken Smoothie, including the Oekaki board, in forum signatures, in our creativity board, and elsewhere, so please take the time to read them carefully.
Every artwork that you or someone else produces is automatically protected by copyright. The copyright owner has certain exclusive rights over their creations, including the right to make copies of, distribute (post), and make derivative works of their artworks. Nobody else has the right to do these things, unless the copyright owner gives them permission.
Our image posting rules at Chicken Smoothie are designed to ensure that our moderators can check that you are correctly following copyright law.
Using Free Lineart:
If you use a free lineart you must link it back to the original artist's work, where it is stated that it is free to use.
You may not state it at the bottom of your page where no one can see it. Linking to the Original Artist's profile/photobucket/gallery is not sufficient, it must go to the exact page/image the lineart is on.
You must also follow the artist's rules for the lineart, this may include leaving their signature/mark on the image.
If you have a separate permission to use an image, you must provide a screenshot of the message.
If you are unsure how to link back, check out this guide on How to link back.
At no time should you use a lineart that is 'For _____ site only', in example, if the lineart says 'Deviantart only', you must not use it and post it here.
Copying/Tracing/Modifying other peoples art/lineart:
Tracing over other peoples finished work or lineart to create new lineart/art is not acceptable.
Copying someone elses art in any shape or form is not acceptable. We will be able to tell if you copied someone else's work to claim as your own.
Modifying other peoples' work is not acceptable.
Trading or offering art to other Chicken Smoothie members that has been plagiarized in some way is not acceptable.
Using or claiming ownership of other peoples' 'fursonas' or other animal artwork to be used as 'fursonas' on Chicken Smoothie is not acceptable, nor is it fair to the original artist. This image does not represent you and is therefore not allowed to be used. This also applies to entering competitions run by users, and using a stolen image/fursonas as your entry.
Creating a drawing with the relatively same pose or same colors as another drawing, whether you have seen it or not, is NOT theft. (This does not apply to traced/replicated drawings.)
One person cannot copyright a certain colour, species, name, pose, or marking, unless the marking is highly unusual and original. This does however not entitle you to directly copy any artwork that someone has made regardless of this fact.
Creating an art gallery:
Posting a gallery of artwork that you created or was created specifically for you here or 'off-site' is completely acceptable, within the appropriate area, as long as the work is 100% yours.
Creating a gallery of other peoples' work, either here or off-site, without their express permission or knowledge is not acceptable.
Trading artworks:
If you wish to trade art for CS adoptables, please use the section provided.
If the lineart you use states it is not to be used for any kind of gain/profit nor for commercial use, you may not use it to ask for trades just for colouring it in.
Again, if the lineart you intend to use specifies it is not to be used anywhere else and is 'For _____ site only', in example, 'Deviantart only', you do not use it and post it here.
Chicken Smoothie related:
Modifying/copying/altering/recoloring/re-distributing/etc of ANY Chicken Smoothie official artwork/adoptables/items for use ANYWHERE is a serious offence. Chicken Smoothie does not take art thieves lightly, and you will be punished.
As long as you maintain some common sense and etiquette concerning artworks, you will have no problems here. Failure to follow any of the rules will result in a possible warning for art theft and removal of any links/threads. Serious and repeat offenders will be reviewed and banned where deemed necessary.
The staff at ChickenSmoothie thank you for taking your time to read and adhere to the rules.
And what else can get me in trouble?
You may be banned or have other penalties applied if the staff believe that your behaviour has hurt or will hurt the website or its members.
als je nog vragen hebt en je weet ze niet in het engels te stellen vraag het dan aan Celina... zij is nederlands...
natuurlijk kun je het ook aan Serena vragen zij is tenslotte een newbie helper

je kan het ook aan mij vragen